Discography - In The Omen Of A Storm
Following on from Incantation, Coelacanthic Vision released their second tape - In The Omen Of A Storm - in 1991.
There was a Limited Edition version of "In the Omen of a Storm" -- given to those who helped out on the project -- with a colour (photocopied) cover and a metal tape. (Thanks to Tomas Kriha for the tip)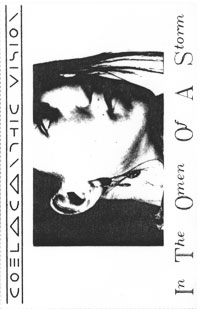 Side A
Side B
All tracks written by the Frog-Prince except: track i, written by the Frog-Prince and Derk Henderson; and track x written by Derk Henderson.
All tracks copyright 1991 Coelacanthic Vision.
COELACANTHIC VISION are:
The Frog-Prince : Sean King
lead vocals, keyboards, penny whistle (track i) and rhythm programming.
Derk Henderson
keyboards, backing vocals (tracks ii, iii, & iv), vocals & guitar (track i).
GUEST APPEARANCES:
Kate Elliot & Teth, backing vocals (track vi).
(Appearances courtesy of Krishna.)
Produced by Coelacanthic Vision
Engineered & mixed brilliantly by Derk Henderson
Electronic Art: Thomas Kriha-Sanders. Cover photo: Stephanie Kemp.
COELACANTHIC VISION THANKS:
Charlie Harter, Kate, Teth, the Henderson family, & Stephanie Kemp.
THE FROG-PRINCE THANKS:
his wonderful grandmother, & Jon Marc for their priceless help.
EQUIPMENT USED:
Roland JX8P, Roland D20, Yamaha DX 9, Casiotone Keyboard, DR550 drum machine, acoustic guitar, penny whistle, shortwave radio, reverb unit, Master Trax Jr (sequencing software), Fostex 4 track recorder, and 8 track mixer.
Close your eyes don't let the
pain get in the way, don't
Shackle down your wings in
the omen of a storm,
Splash the sky with a paintbrush
dipped into your heart,
Kiss the dampened soil;
take the moment now…

Soak the music don't let the
screen get in the way, don't
Shackle down your wings in
the omen of a storm,
Carve the hillsides with your
stubborn fingernails,
Float into the sea;
life has only just begun…

Such a tragic thing…
Download complete album cover (300dpi)