Discography - Incantation
Coelacanthic Visions's first tape - Incantation - was released in 1990. The Black Edition '90 was made available to students of Hutt Valley High in very limited numbers.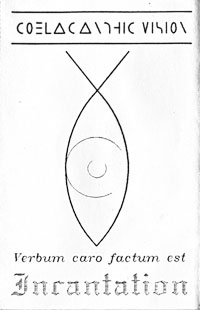 Side A
Side B
Produced by Coelacanthic Vision
Engineered & Mixed by Derk Henderson
Graphics by Thomas Kriha-Sanders
COELACANTHIC VISION are:
Sean "Frog" King on vocals & keyboards.
Derk Henderson on vocals, keyboard & guitar.
("Hutt Valley High" features a guest appearance of "The Donor" on vocals & milk bottle).
INSTRUMENTS USED:
DR550 drum machine, Roland JX8P, Yamaha DX 9, Gibson semi-solid guitar & a milk bottle.
Recorded & Engineered on a Fostex 4 track recorder, Philips N2537 recorder & Akai 4000DS reel to reel recorder.
All songs written by Sean "Frog" King except "Circumnavigation" & "Oceanology" written by Derk Henderson & Sean "Frog" King, and "Hello Mr. Goldfish" written by Derk Henderson.
Download complete album cover (300dpi)